Every tv show has its bunch of mistakes, inconsistency or anecdotes that only an eagle-eye could notice. "The Adventures of Sinbad" makes no exception.
I let you see by yourself.
- In 2 places at a time!
In the episode "the Beast Within" (1x03), Sinbad is running on a forest, trying to save his life against a beast sent by Rumina. But when we see the rest of the crew arriving on the Island, the Captain is on the little boat with them! What a surprising man, this Sinbad!
-No, it was not a special effect.
Still in "Beast Within", Zen Gesner really performed the fire breathing stunt. I guess he did it as well in "Return of the Ronin" (2x02).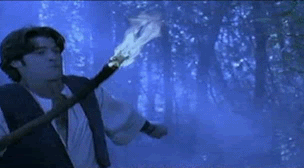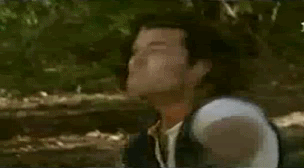 - You just did it, didn't you?
In "Village Vanishes (1x12), Maeve takes off her glove just before Cassandra appears. But the moment after, she took it off again. Maybe she was not satisfied the first time she did it...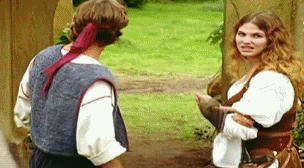 -You just did it, didn't you (Part 2)?
Maeve is not the only who likes to do things twice. Sinbad also found funny to take his sword a first time before doing it again a few seconds later. It was in "Voyage to Hell" (2x04)
- Always look perfect, even in the middle of a fight.
In "Monument" (1x18), Sinbad is fighting with Plunkett in a bar when suddenly, he looses his headband. However, in the next scene he still wear it. Some will think he said to Plunkett: "Hey, wait a minute, I need to put my headband back." Me thinks...it's magical!
- "Invaders", the return.
Look at this picture taken from "Eye of Kratos" (1x16). Do you see something that should not be here?
Yes, I'm talking about that chair at the bottom right of the pic, where we can see "Producer" written in it. It surely doesn't come from this period of History. Did the invaders already come before to put their marks?
-Never throw something away! You never know, it could be useful again.
Do you see those statues in "Still life" (1x04)? And those ones in Trickster (1x19). The same, exactly.
Could this one in "Minotaur" (2x20) be one of them too?
-Spotted!
Maeve stunt double can be seen from time to time in several episodes. Those pics are taken from "Double Trouble" (1x09) and "Ties that Bind" (1x08), but we can also see her in "Trickster" (1x19) and "Village Vanishes" (1x12).
-Improvisation.
We all know that Jacqueline Collen-Tarolly left the show at the end of the first season. She never played in the second season. That's why at the beginning of "Sacrifice" (2x01) we can see that little scene taken from "Prince who wasn't" (1x11), and the scene where she falls into the sea was stock footage from season one.
NB: There's is so many repetitions in AoS that we won't talk about all of them, but the most current would be the Nomad (especially during a storm) or Dermott (when he flies or when he's on Maeve's arm
-"Convincing! I want something convincing"
Sometimes, the captain of the Nomad can't retain his force at time. That's what happened during the shot of a fight on the beach, for the episode "Voyage to hell" (2x04). Sinbad is fighting against young Timur (played by Sean Michael). At one point, Sinbad punches Timur in the face and he falls down. When this was actually filmed, Timur slipped in the sand and Sinbad punched him for real. Don't worry, everyone was fine, but they decided to keep the shot, as it couldn't be more convincing.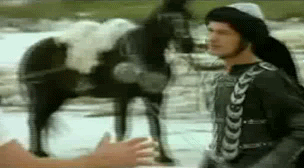 - What if Jacqueline Collen-Tarolly had never played Maeve?
This could have happened. Before, Jackie passed her auditions, Ed Naha had already found an actress to play the magician, and it was none other than Monkca Shnarre, the actress who played Alanna in "The isle of Bliss" (1x21). Fortunately (or not...everyone makes his own opinion), the producer changed his mind when he saw Jackie. Guess Monika had her revenge, playing an ennemy of the redhead.
-Sinbad, Maeve, Doubar, Firouz and...that's it.
Who thought that a silent knives thrower would become one of the best members of the Nomad's crew? Not the producers, at first. Indeed, Rongar, played by Oris Erhuero, was supposed to die in the second episode. However, he really impressed the creator and directors they they finally decided to keep him for the rest of the adventure. Oris must have been really happy when he heard that.
-When the main cast brings his family on set.
Two actors had the pleasure to see their own wives playing a small role in several episodes.
Tim Progosh's wife played the lady who sales a room to Rumina in "Double trouble" (1x09) AND Ajeeb's mother in "the Guardians" (2x21).
As for Zen Gesner's wife, Cindy Farrelly, she appeared in the episode "Invaders" (2x11), with their son, Finn Harry Gesner.
- An army of dolls
Ed Naha wrote a movie similar to the episode "the Gift" (2x06), that featured an army of dolls come to life. The movie was called "Dolls"(1987). Scary...
- That's a wrap!
On the last day of shooting for the first season, Zen Gesner and Jaqueline Collen jumped off the ship to celebrate while still partially in costume. The producers were not really happy to hear that, they feared that one could be injured.


Have you ever watched an episode of Sinbad thinking "Hmm...I've already seen him/her somewhere." ?
No? Then you're not a good watcher!
There are, indeed, several actors playing different minor characters in both seasons.

Let's see...
-The most obvious would be Bianca Amato.
She played Cassandra in the "Village Vanishes" (1x12), the girl always crying,
And Shirez in "Ali Rachid and the thieves" (2x05) the girl having a crush on Sinbad (or the other way round).
-The youngest is this little boy who played a little role in "Masked Maraudeurs" (1x13) before playing the young Sinbad in "The Bully" (1x17)

- Gavin Van Der Bergh, played a different role in both seasons. He was Belkor in "Village Vanishes" (1x12), and Nesher in "Beast of the Dark" (2x17).
- Greg Latter was Lermon in "Eye of Kratos" (1x16) and also appears as Hooshang in "The Monster." (2x09).
-This old man played the Vizir in "King Firouz" (1x07) and the Guardian in "Trickster" (1x19)
-This one, John Carson, what the sorcerer Dinar in "Masked Maraudaurs" (1x13) before playing a King in "The Survival Run" (2x18).
-Mala ! Ah…Mala. You think it was her first role in the last episode of AoS ? Well, It wasn't. Laura Steed indeed played the Queen in "Still Life", the one who had been turned into a statue.
-And Finally, the Oscar of the most recurrent actor goes to…Dan Pawlick! This actor played no less than 4 minor characters in the show!
The first time was as Kalel, in "The Ronin" (1x05), then he was in "Siren's Song" (1x20) as the Captain, in "The Gift" (2x06) as Padbock and finally in "The Empress" (2x14) as Tana.
So now we let you all go back to watch the show, paying more attention to everything you've discovered here.....









credits:2K